Don't forget that your local pharmacist is a great source of advice and treatment for minor injuries and illnesses.
There are also some great resources for self care on the NHS website.
However, if you do need to be seen urgently outside of our opening hours, and cannot wait until the next working day, you should dial 111, which will direct you to the most appropriate treatment options.  Calls to NHS 111 are free from mobiles and landlines.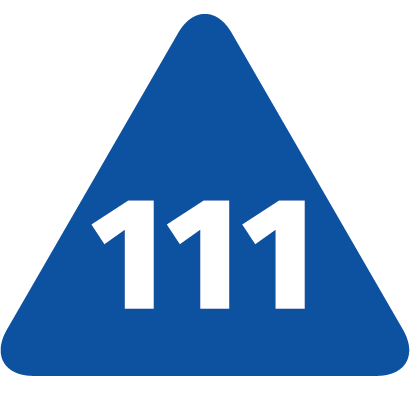 Other out of hours services available in Liverpool
Walk in Centres
Liverpool (City) NHS Walk-In Centre
The Beat (Liverpool One)
Hanover Street/David Lewis Street
Liverpool, L1 4AF
Tel: 0151 285 3535
Open Monday to Friday from 7.00am – 10.00pm, Weekends and Bank Holidays from 9.00am – 10.00pm (entrance on David Lewis Street).
Old Swan NHS Walk-in Centre
Old Swan Health Centre
St. Oswalds Street
Liverpool
L13 2BY
Tel: 0151 285 3565
Situated in the Old Swan district of Liverpool with a nurse-led service. Open 7 days a week including bank holidays 7.00am to 10.00pm.
South Liverpool NHS Treatment Centre
32 Church Road
Garston
L19 2LW
Tel: 0151 295 9010
Open Monday to Friday 9.00am to 9.00pm
Weekends and Bank Holidays 9.00am to 5.00pm
X-ray facilites for below knee and below elbow only, available between 9.00am and 5.00pm Monday to Friday
Smithdown Children's NHS Walk-in Centre
Smithdown Road
Liverpool L15 2LF
Tel: 0151 733 4644
Open Monday to Friday 8.00am to 9.00pm
Weekends and bank holidays 10.00am to 4.00pm
Facilites for under 16 year olds only. X-ray facilites available between 9.00am and 5.45pm Monday to Friday.
Accident and Emergency departments
Please only use A&E for accidents and emergencies that cannot be managed with the above options.
Royal Liverpool University Hospital (A&E)
Prescot Street, Liverpool L7 8XP
Tel: 0151 706 2000
Fax: 0151 706 5806
University Hospital Aintree (A&E)
Lower Lane, Fazakerley, Liverpool L9 7AL
Tel: 0151 525 5980
Alder Hey Children's Hospital (A&E – children only)
Eaton Road, West Derby, Liverpool L12 2AP
Tel: 0151 228 4811
Emergency Ambulance services can also be contacted at any time by dialling 999.
Book appointments, order repeat prescriptions, and even access your GP records online.